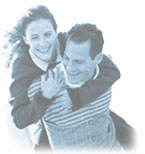 Online Dating Advice offers: useful tips and advice for singles on using online dating services, placing personal ads, finding the top dating sites, and writing successful personals.
Online Dating Tips for Women
Get a free anonymous e-mail account.

NEVER post your real name anywhere online. Remove it from chat programs, and any email accounts that you use for recreational correspondence. A good free anonymous email account can be found here.

Take your time!

Nothing will give you better prospective than time! Have your date's habits, mood or language inexplicably changed? Are you becoming more suspicious of something with time; perhaps something just doesn't feel right?

Get a phone number!

Chat on the phone a few times… what can you hear in the background? Do background noises match the information you have? Is the household supposed to have children, pets, etc.? This is a very important piece of dating advice: Listen, Listen, Listen! Remember to block caller-ID's until you chose to give your number and that every time you use an 800# its likely that your phone number will be recorded.

Verify the phone number!

Call Directory Assistance and insure that your date's phone number matches the one they gave you… If your date's number is unlisted, Directory Assistance will verify that 'so and so' has a number, but its unlisted. Also, try web sites like switchboard.com to verify addresses and phone numbers.

Call at unanticipated times!

Someone who cherishes you will always delight to take your call! Does someone unexpected answer the phone? Does your date seem irritable that you are calling unexpectedly? Perhaps they have something to hide.. Don't be a pest, but try a couple of unanticipated times… just to sense the temperature…

Ask to have a family photo!

Is your date a 'family man?' Is (s)he proud of the children? Do the kids seem to match the details you were told?

Get a physical address and mail a card.

Use a return address that will not reveal your identity or your physical address (i.e. just use your screen name and a PO Box or work address) and see if the card is returned for any reason. Allow a minimum of 10 days to receive returned mail.

Ask about previous relationships.

Was your date previously married? In any long term relationships? Why did they end? Does there seem to be any remorse? Should there be? Does your date seem to have recovered from the separation or dissolving of the relationship? Always ask "What would the other person say about you?" Again, this is a very important piece of dating advice Listen, listen, listen! If it feels right, ask questions. If it all feels wrong, ask questions. Clarify! If it doesn't seem to add up, it might not!
Dating Advice for Men

Meeting Ladies with Personal Ads
You have answered a personal ad of the single woman of your dreams. From the description of her ad she seems like a perfect match for you for romance and a possible serious relationship. You write her a letter and anxiously wait to hear back from her. And you wait…and wait…and wait and you never hear from her.
So, you wonder what went wrong? Is she rejecting me? Did I say something in my letter that turned her off? Why won't she write back?
Most likely you made some common mistakes that turn single women off or caused them to lose interest in you. Listed here are some things that may have gone wrong so you can take corrective measures on the next personal ad you answer:
Your letter was too sexually suggestive. When writing to a woman for the first time, never write anything of a sexual nature. It's a big turn off.
All you did was brag about yourself, your accomplishments, and your possessions in your letter.
You forgot to give her your phone number in case she may want to call you instead of writing you back. Some single women prefer to do it this way. If you just write back with your address, she may get letters from guys who include their phone number and she will pass you up in favor of calling them. There's another factor to consider. If you won't give out your phone number, she may think that you are married or living with another woman.
The letter you sent her looked like it was zeroxed. This is a real big no no.
You forgot to send her a stamped reply envelope with your letter. A stamped reply envelope helps to ensure an answer back and it shows the woman that you are very thoughtful. This makes a very good impression on single women.
You forgot to mention what is was in her ad that attracted you to write her. Single women love compliments and they want to know why to chose to write her.
Your handwriting was very difficult to read. If you have bad handwriting, have your letter typed. If she can't read your writing, your letter is going straight to the trash can.
Your return address is a post office box and you don't give a phone number in your letter. Without a street address and a phone number, she may become suspicious that you are trying to hide something.
You screwed up in your letter by calling her "Babe" or "Darling" or "Baby" or "Honey," etc. These words are just too strong to use on a woman you don't even know.
Your letter was full of typos. Be sure and proof read your letter or have someone else do it. If you have a lot of spelling errors this is going to make you look like a real "dumb ass."
You mentioned that you like to give or receive massages. This statement has a sexual overtone to it and some women will think that all you have on your mind is sex. Don't mention anything about massages in your first letter to a woman.
Your letter was written on notebook paper or even worse, the paper is torn. Always use professional looking stationary with matching envelopes when writing to a woman.
Your letter lacked warmth and was very impersonal.

If you are single and looking for someone, whether that is an email friend, a casual relationship or something serious, meeting people online can be very rewarding. Online dating web sites offer a fun, exciting and secure environment for interacting and meeting with other single people online. If you decide to take that all important step of meeting someone in real life, remember, common sense is by far your best safety tool.
These tips will help you navigate the online personals terrain safely, so that with just a few clicks of your mouse and some common sense tips, youll find exactly what you are looking for:
Online Dating Tip #1 Stay Positive and Pace Yourself!
When e-mailing and IM-ing (Instant Messaging) with others, be positive, upbeat and honest. Just like when youre meeting people for the first time in "real life," its never a good idea to bombard someone with the unadulterated story of your life complete with every road bump and detour. Keep the honesty, but dont overwhelm your online friend with too much information too soon. Pace yourself!
Online Dating Tip #2 Photos are Powerful!
Pictures say a thousand words. Include one! Profiles that include photos get many more responses than text-only ones!
Online Dating Tip #3 Demonstrate Why Youre Unique
Round out your profile with interesting information that highlights your unique personality, background and interests. Everyone enjoys walks on the beach and snuggling up by the fireplace. so go beyond the ordinary and offer up detail on authors youre inspired by, places youve visited or dreamed about seeing, etc. Go beyond the ordinary and youll reap the rewards!
Online Dating Tip #4 Meet People at Your Own Pace
Dont feel pressured to meet face to face before youre ready. Men usually do better when they let women control the pace of the online relationship, since a woman may need a little more time to feel safe. Men would do well to let women know they are interested in meeting face-to-face, but then to step back and let the woman say when.
Online Dating Tip #5 Close the Deal!
After you meet someone that you like, cinch a second meeting after the date, by looking directly into his or her eyes and saying, "I had a really great time with you, it was a lot of fun."
Online Dating Tip #6 Safety First!
Be sure to assume an anonymous handle, i.e., member ID or user name, so that your privacy is assured. Never sign up with an online personals company that doesnt provide anonymous email services!

Other safety tips include:
Use an e-mail address or cell phone number as an initial means of contact. Do not give out your home phone number.
If you're planning on meeting someone, tell at least two people where you're going, the person's name, their general description, and your expected time home.
Always meet someone in a neutral location. Never have them come to your home or place of work to pick you up.
Always meet someone in a public place, such as a restaurant, or a movie theatre.
Always be aware of the personal information you're revealing to a date.
Use common sense. If you get a bad "vibe" maybe it's time to end the date.
Bottom Line: Forget about acting cool, and think about acting real. The dates (and maybe even true love) will follow.
Helpful Tips and Advice for Internet Dating
Millions of single men and women now frequent personal ads and online dating sites to meet other singles and form the type of relationships they seek. To get the best results, we recommend placing your personals profile on every top dating and matchmaking site available. Why? Simple. There is power in numbers! The more free ads you place, the more responses you'll receive.
Men especially, have to realize that there are about one hundred male personals to every one female personal ad. If you don't get many replies to your personal ads, it's probably because your personal is well, boring. Women tend to reply to personals that make them giggle or cause a 'sigh'. Keep this in mind when creating your personals AND replying to them as well!
Be sure to take plenty of time in writing your personal ad. This is your 'first impression' and you must make it interesting enough to entice singles to respond to it. Be creative, witty, funny and charming. Let your personality shine through. With literally millions of personal ads out there, you must try and stand apart from the rest!
The worse possible reply is "Hi! I saw your ad and you look a person I'd like to know. Write to me!" Yikes. This will probably NOT get to many responses. And you'd be surprised how many replies are almost exactly like that.
Make sure you upload as many digital photograph's as possible to your personal ads, or get a biography web site. Nice Pictures make all the difference. It DOES not matter what you look like, post your pictures, and you will get MORE response's to your personal ad.
Searching the millions of online personals can be a time consuming process. This is why it's imperative that singles really take the time to work out a perfectly tailored response when finding someone that you would really like to date. This is true especially for single gentlemen out there. Female personals receive hundreds more response's then male personals, so writing a witty, charming and well thought out reply is so very important.
When replying to internet personals, keep in mind that this is YOUR first impression. Write perhaps a paragraph about yourself but don't make it a novel! Your goal is to peek the other single persons interest, and having them write you back. Keep in air of mystery about you, let them want to find out more!
Don't give out too much personal information, and DO NOT give out any more contact info then your e-mail until after a well established relationship has developed. You should never reveal your phone number or home address until a trusting online relationship has been established.
Let the person you're interested in, know what you like about their ad, and why you decided to respond to it. Mention things you might have in common, and inquire about their other likes and interests. Make sure you don't ask any questions that might seem too personal or somewhat invasive.
It's a good idea to include a personal picture when replying to personals, or perhaps a link to your web site or a personal ad you have listed. This gives them the option to check you out and see if there's a spark. If you don't get replies, don't take it personal. There are plenty of single peeps on the net!
Well, We hope these tips help you figure out how you screwed up on writing your first letter when answering personal ads of single women. If you will follow these guidelines, it will greatly improve your chances of that "dream girl" writing back to you.
Free-Adult-Personals.org will never solicit you for money. Our match personals will always remain completely free! All we ask is that you place a "Free" profile with the below sites because they make our free personals possible.
Placing a free profile with the below singles sites will not cost you a cent! It will, however, help cover our bandwidth and marketing costs. Thanks for your support, and we wish you all the best of luck in finding that special someone to share your life with.